Berkshire Sports Shops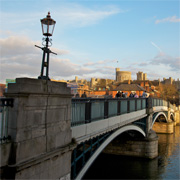 Narrow your results: browse for sport shops in Berkshire towns:
Maidenhead.
Straddling the north side of the M4 corridor means that towns in Berkshire are easily accessible by a good network of roads. Berkshire's sports shops are spread all over the county in major towns including Reading, Slough, Maidenhead and Newbury. Whether you are keen on diving, squash, rugby, football or any one of dozens of other sports, there's a terrific selection of Berkshire sports shops to help you choose the right equipment or clothing.
Learn To Dive in Wraysbury can teach newcomers everything they need to know about scuba diving, as well as supplying a great range of diving equipment. Club Golf in Maidenhead is a golfer's dream place, whilst Thames Valley Sports in Maidstone is a well stocked independent sports specialist retailer. All Berkshire sports retailers and businesses can have a free listing in this directory.
POPULAR BUSINESSES
4 Mercia Road, Maidenhead, Berkshire, SL6 3DR
01628 621464
Station Road, Wraysbury, Berkshire, TW19 5ND
01784 488007
3 St Marks Crescent, Maidenhead, Berkshire, SL6 5DA
01628 630356
OTHER BUSINESSES
AW Sports

3 Headley Road, Reading, Berkshire, RG5 4JB
0118 969 7907
Club Golf

Drift Road, Maidenhead, Berkshire, SL6 3ST
01628 635153
Exsports

41 High Street, Maidenhead, Berkshire, SL6 1JF
01628 672525
Sportsfeet (UK)

52B Queen Street, Maidenhead, Berkshire, SL6 1HY
01628 778512
The Racket Shop

481 Northumberland Avenue, Reading, Berkshire, RG2 8LZ
0118 933 8833