Maidenhead Sports Shops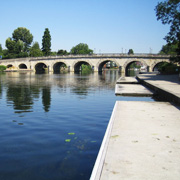 Situated in the north east corner of Berkshire, many of Maidenhead's working residents regularly commute to London, Reading or Slough. The Nicholsons Centre is a large town shopping area devoted mainly to the multiple groups and a few independent stores. Around the outskirts however, are some of Maidenhead's sports shops that can offer locals and visitors a great selection of sports clothing and sports equipment. Whatever sport is played, these shops should be able to supply equipment for most requirements including sports such as tennis, football, running, cricket and hockey.
If any Maidenhead sports shop would like to have a free listing in this directory, please click on the link below to start the process.
POPULAR BUSINESSES
4 Mercia Road, Maidenhead, Berkshire, SL6 3DR
01628 621464
3 St Marks Crescent, Maidenhead, Berkshire, SL6 5DA
01628 630356
OTHER BUSINESSES
Club Golf

Drift Road, Maidenhead, Berkshire, SL6 3ST
01628 635153
Exsports

41 High Street, Maidenhead, Berkshire, SL6 1JF
01628 672525
Sportsfeet (UK)

52B Queen Street, Maidenhead, Berkshire, SL6 1HY
01628 778512