Scuba Diving Instructors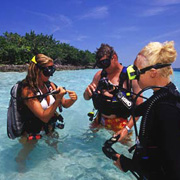 Originally an acronym for 'self contained underwater breathing apparatus', the word Scuba is widely understood in its own right. Whether an individual undertakes scuba diving on a professional or recreational basis, it's vitally important that they receive the correct instructions and lessons first. These teachers will all be members of the Professional Association of Diving Instructors (PADI), and a number of courses are available to get new people started.
By undertaking several modules of PADI structured training courses, a scuba diver will then be aware of all the dangers and excitements that this sport brings to its participants. Whilst basic scuba training may be undertaken in a shallow pool, once the breathing and safety techniques have been mastered, the trainees can move on to the challenges of diving in open water.
PADI qualified scuba diving instructors are often professional divers themselves. Some may work in cold and hostile environments like the North Sea, whilst others may prefer warmer tropical waters giving holidaymakers their first underwater lessons. Wherever you live in the UK, a scuba diving instructor school or other training facility is nearby.