Backpack and Rucksack Shops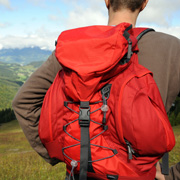 Whilst backpacks can also be known as rucksacks, or even knapsacks, the substantial features of backpacks best describe these amazingly sophisticated pieces of carrying equipment. All over the world, walkers or hikers are reliant upon them to transport quite heavy loads across difficult terrain, sometimes over many days. With their increasing popularity, there are many specialist backpack shops that exist to offer great choices and ranges to their customers.
The clever frame designs of backpacks help to support the weight across a personís body as evenly as possible, and many major well known brands are available to choose from. Firms like Eastpak, Caribee, Osprey and Deuter are just a very small selection that would be available at many of the backpack shops. Whether a customerís choice is to buy from a traditional shop or from an online backpack seller, most of them will have experienced staff that are able to help with advice and information on the different options.
Long being the preferred choice of world travellers, especially students on gap years, the backpack has grown from a simple piece of carrying equipment to a stylish piece of luggage that incorporates many different practical compartments, covers and storage pockets. Backpack shops will even be able to supply some that even have concealed wheels and handles built in to make for easy transport in stations or airports.
BUSINESSES