Coventry Sports Shops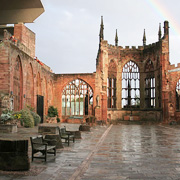 As one of the largest cities in the country, Coventry has a great choice of sporting activities for all age ranges and abilities to get involved in. With plenty of Coventry sports shops to cater for all kinds of popular and niche sports, the city is a terrific destination for sourcing all kinds of sports equipment.
Coventry boasts numerous sportsmen and women worthy of note – covering sports such as football, speedway, cricket and rugby. The many sports teams based in the city include Coventry City, Coventry Rugby Club and Coventry Bees – and the city was proud to be chosen as the host of the International Children's Games in 2005. See our list of specialist Coventry sports shops below – and don't hesitate to tell us about other ones that may not yet be listed here.
POPULAR BUSINESSES
The Precinct, Coventry, West Midlands, CV1 1DD
02476525379
Chetton Avenue, Daimler Green, Radford, Coventry, West Midlands, CV6 3LA
0845 8905657
OTHER BUSINESSES
Central Sports

Empress Buildings, 61 Binley Road, Coventry, West Midlands, CV3 1HU
024 7645 5149
Coventry Runner

223 Burnaby Road, Coventry, West Midlands, CV6 4AX
024 7666 8498
First Sport

Unit SU 1, Cathedral Lanes Shopping Centre, Broadgate, Coventry, West Midlands, CV1 1LL
024 7663 2770
Sportsave

162 Jubilee Crescent, Coventry, West Midlands, CV6 3ES
024 7659 9500
Total Knockout Sports

996-998 Foleshill Road, Coventry, West Midlands, CV6 6EN
024 7666 3016
Universal Sports

175 Walsgrave Road, Coventry, West Midlands, CV2 4HH
024 7645 7015
V Sports Cricket

338 Foleshill Road, Coventry, West Midlands, CV6 5AJ
024 7666 5826