West Lothian Sports Shops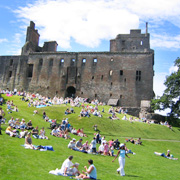 With a population of around 150,000 people, and towns such as Livingston, Whitburn and Linlithgow contained within its borders, itís possible to find pretty much whatever sports equipment you need in West Lothian. Although there arenít huge numbers of independent sports shops left in the county, stores like Scots-Sport in Whitburn and Lochside Tackle in Linlithgow serve the area well and cater for lots of different sporting activities including fishing, keep-fit and racket sports.
Keen golfers make a beeline for Golfposer also in Linlithgow. They offer their customers a superb choice of golf clubs and balls, as well as equipment like motorised golf trolleys, umbrellas, towels, golf shoes and clothing. General sports like tennis, football, rugby and squash are well represented in Torra Scotia Sports shop in Bathgate.
FEATURED BUSINESSES

Comprehensive stock of sports clothing and footwear as well as bowling footwear and equipment.
Read more about Scots-Sport >>
POPULAR BUSINESSES
12 E-Net Park, Mill Road Industrial Estate, Linlithgow, West Lothian, EH49 7SF
01506 238765
OTHER BUSINESSES
Aktive8

8 Brewster Square, Livingston, West Lothian, EH54 9BJ
0871 231 8888
Lochside Tackle & Sports

254 High Street, Linlithgow, West Lothian, EH49 7ES
01506 671477
Lochside Tackle and Sports

254 High Street, Linlithgow, West Lothian, EH49 7ES
01506-671477
Nutrition 2 Fitness

24 East Main Street, Bathgate, West Lothian, EH47 0RB
01501 749448
Torra Scotia Sports

13 King Street, Bathgate, West Lothian, EH48 1NU
01506 632496