Rugby Sports Shops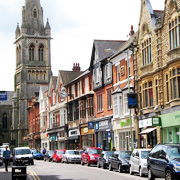 Probably best known as the birthplace of rugby football, Rugby in Warwickshire is a thriving town with its fair share of independent sports shops; these cater for dozens of different sports and active pursuits. Customers wanting to purchase equipment for caving, kayaking, fishing, gymnastics or netball need look no further than local Rugby sports shops. Archery and Shooting Supplies is an online retailer based in the town who can send specialist equipment all over the UK.
The Webb Ellis Rugby Football Museum is also situated in the town, and houses an impressive collection of rugby memorabilia going back over a hundred years. Sign up now to have your Rugby sports shops listed for free on this directory.
POPULAR BUSINESSES
3 Malt Mill Green, Rugby, Warwickshire, CV23 8YW
07595 912975
OTHER BUSINESSES
2nd Sport

7-8 North Street, Rugby, Warwickshire, CV21 2AB
01788 544354
Chryso Ltd.

5-6 St. Matthews Street, Rugby, Warwickshire, CV21 3BY
01788 537200
Sport Clox

The Cottage, Rugby, Warwickshire, CV23 9HJ
024 7654 5544
Sportfolio

8 Moultrie Road, Rugby, Warwickshire, CV21 3BD
01788 540635
Sportsave

The Old School House, Main Street, Rugby, Warwickshire, CV23 8BH
01788 890885