Swansea Sports Shops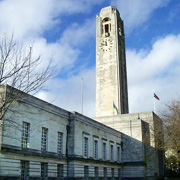 With a famous rivalry between Swansea and Cardiff in the sporting stakes, it's no surprise that Swansea residents are fiercely proud of their local teams. Rugby, football, cricket and bowls are all popular sports here - and the city has a good selection of specialist Swansea sports shops to cater for the local and visiting populations.
Whilst the usual big-names stores are all represented here (with JJB Sports on Union Street and JD Sports at the Parc Tawe Retail Park) there are plenty of other specialist, independent Swansea sports shops to choose from if you're prepared to travel just a little distance from the main shopping hubs. Good examples of local sports specialists include Wales's largest independant rugby store, Rok Sport, and a cricket retailer called H Sports in Uplands.
OTHER BUSINESSES
City Surf

4 Picton Arcade, Swansea, SA1 3BE
01792 654 169
Days Diversified

Dormay Works, Meadow Street, Townhill, Swansea, SA1 6RZ
01792 579 777
Design Sports & Leisure Wear

49 Saint Helen's Road, Swansea, SA1 4BD
01792 651 177
Element Outdoors

28 Castle Street, Swansea, SA1 1HY
01792 648 237
Field & Trek

262 Oxford Street, Swansea, SA1 3BR
0870 838 7297
H Sports

49b The Grove, Uplands, Swansea, SA2 0QR
01792 455 015
Liberty Equestrian

Samlet Road, Llansamlet, Swansea, SA7 9AL
01792 775 997
Nash Sportswear

43 Gower Road, Sketty, Swansea, SA2 9BX
01792 201 952
Nucleus

228-230 Oxford Street, Swansea, SA1 3BJ
01792 484 907
On Board Surf and Snow

464 Gower Road, Killay, Swansea, SA2 7DZ
01792 203018
Roksport

7-8 Caer Street, Swansea, SA1 3PP
01269 592 876
Up & Running

8 High Street, Swansea, SA1 1LE
01792 456 060