Abingdon Sports Shops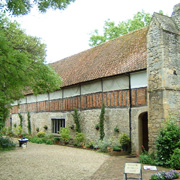 One of the UK's oldest towns, Abingdon in Oxfordshire is a large market town not far from Oxford, with Didcot and Wantage close by. The Abbey Shopping Centre has branches of many multiple retailers, whilst the Abingdon's independent sports shops are spread in other areas around the town.
Outdoor Traders in the High Street sell a terrific choice of hiking clothing and equipment, whilst Fit 2 Run in Wootton Road offers running shoes and clothing. If you want to play cricket, Abingdon Vale Cricket Club is always on the lookout for new members.
OTHER BUSINESSES
Abingdon Pedal-Power

92 Vineyard, Abingdon, Oxfordshire, OX14 3PB
01235 525123
Abingdon Vale Cricket Club

Hales Meadow, Culham Road, Abingdon, Oxfordshire, OX14 3HP
01235 524405
Fit 2 Run

Unit 6, Dunmore Court, Wootton Road, Abingdon, Oxfordshire, OX13 6BH
Outdoor Traders

2 High Street, Abingdon, Oxfordshire, OX14 5AX
01235 423162
Physio Oxford

12 Appleford Road, Abingdon, Oxfordshire, OX14 4NQ
07802 412255
Topsport

48 Wootton Road, Abingdon, Oxfordshire, OX4 1JD
01235 521405