Norwich Sports Shops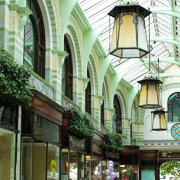 Famous for its celebrity endorsement in the form of Delia Smith, Norwich's football team, Norwich City, plays at Carrow Road and has achieved some pretty good successes over the years. Other local clubs include Norwich Lions, The Norwich North Stars and the Norwich City Hockey Club. All this sporting activity means that the city and the surrounding area is rather well served by a good selection of specialist Norwich sports shops.
Retailers like Sports World, Sports Direct and JD Sports are all located in the city centre (at the Chapelfield shopping centre and The Mall) although we much prefer shopping at the various independent retailers such as the specialist snowboarding store in Cucumber Lane called Revolutionz - or Venturesport in Westlegate. Other Norwich sports shops include Heroes – a health, fitness and bodybuilding store on Bridewell Alley.
POPULAR BUSINESSES
1 Theatre Street, Norwich, Norfolk, NR2 1RG
01603 232223
OTHER BUSINESSES
Allington Sports

Drayton High Road, Norwich, Norfolk, NR6 5DU
01603 485292
Anglia

1 Beckham Place, Edward Street, Norwich, Norfolk, NR3 3DZ
01603 632090
Clickers Archery

29a Belsize Road, Norwich, Norfolk, NR1 4HU
01603 300490
First Retail

Drayton High Road, Norwich, Norfolk, NR6 5DU
01603 789021
Heroes Fitness Store

4 Bridewell Ally, Norwich, Norfolk, NR2 1AQ
01603 763870
Revolution2

21 Lower Goat Lane, Norwich, Norfolk, NR2 1EL
01603 629313
Sportlink

Tavernham Craft Centre, Fir Covert Road, Taverham, Norwich, Norfolk, NR8 6HT
01603 868606
Venture Sport

15 London Street, Norwich, Norfolk, NR2 1JE
01603 697227
Xara Teamwear

Carrow Road, Norwich, Norfolk, NR1 1JE
0800 0326250