Newport Sports Shops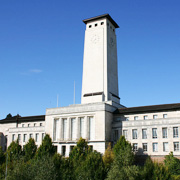 Like many Welsh cities, the residents of Newport are fiercely supportive of their local teams – and with numerous clubs for rugby, football, speedway and squash, there is always plenty of sport to watch. If you're more of a player than a spectator, you shouldn't struggle to find some good Newport sports shops – and not just the big-name players like JD Sports on Commercial Street or JJB Sports at Newport Retail Park.
Pure Rugby is based in Austin Friars in Newport – and is a specialist rugby shop that sells many famous brands such as HAKA, Shock Doctor and Rugbytech. You also have Macey Sports on Caerleon Road that is an independent cricket specialist that also provides equipment and clothing for racket sports, bowls and football.
OTHER BUSINESSES
Caerleon Sports

1 Gloucester Court, Newport, NP18 3FG
07803 611624
Crown Sports Warehouse

Crown Street, Crumlin, Newport, NP11 4PR
01495 246200
Edward All Sports

178 Upper Dock Street, Newport, NP20 1DY
01633 671760
Jacqui Sports

123 Commercial Street, Newport, NP20 1HP
01633 220716
Macey Sports

169 Caerleon Road, Newport, NP19 7FX
01633 548999
Sport Sales

17-18 Upper Dock Street, Newport, NP20 1FW
01633 264026
The Kop-Shop

100 Chepstow Road, Newport, NP19 8EE
01633 666636