Lincoln Sports Shops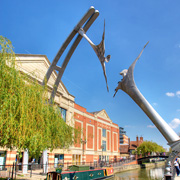 Like all large cities and towns, JD Sports and JJB Sports have a presence in Lincoln, although the real sports fans may prefer to browse some of the independent sports shops that Lincoln has to offer. F & J Cycles is a good example of this. Located in Hungate Street, this shop is run by friendly and knowledgeable staff that not only sells new equipment, but also run a bicycle repair service.
Other specialist Lincoln sports-related retailers include the trophy experts, Frontrunner in Farrier Road, and the specialist air rifle stockist called City Airweapons in Newark Road. If you love running, there's no better place in Lincoln than The Lincolnshire Runner in High Street. A huge selection of footwear and clothing is offered by this specialist sports shop. Reynolds Sports in Crofton Close is worth checking out for a great choice of general sports clothing and equipment. Any Lincoln sports shop or sports related business can have a free listing in this directory.
OTHER BUSINESSES
Allsports

Waterside Shoping Centre, High Street, Lincoln, Lincolnshire, LN2 1AP
01522 549509
City Airweapons

154A Newark Road, Lincoln, Lincolnshire, LN5 8QJ
01522 576 238
F&J Cycles

41f Huntgate, Lincoln, Lincolnshire, LN1 1ES
01522 545311
Frontrunner

Unit 9 Lyndon Business Park, Farrier Road, Lincoln, Lincolnshire, LN6 3RU
01522 684780
Intersport

288-289 High Street, Lincoln, Lincolnshire, LN2 1AL
01522 537311
Lincoln Footie Shop

388 High Street, Lincoln, Lincolnshire, LN5 7SS
01522 567660
Reynolds Sports

12-12 Crofton Close, Lincoln, Lincolnshire, LN3 4NT
01522 513333
The Lincolnshire Runner

455 High Street, Lincoln, Lincolnshire, LN5 8JA
01522 512733