Wigan Sports Shops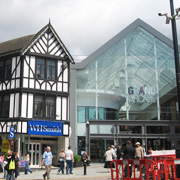 Historically in Lancashire, Wigan is one of Greater Manchester's most prominent towns. Whilst the modern Grand Arcade is home to most of the multiple retailers, the town's mix of old and new buildings creates an interesting shopping destination.
DW Sports have several branches in the region, and with their Intersport connection they can offer a great choice of sports clothing and equipment at the best possible prices.
One of the UK's largest equestrian megastores is located in Ashton-in-Makerfield just outside Wigan. Known as Robinsons Country Leisure, they offer a fantastic selection of products as well as excellent customer service too. Winstanley's Cycles and Alans Bikes are just two of many Wigan cycle shops, and fans of Wigan Athletic Football Club are regular visitors to the Lactics Club Shop in Ashton Gallery. Replica kits are one of their biggest selling items.
POPULAR BUSINESSES
Warrington Road, Ashton-in-Makerfield, Wigan, Manchester, WN4 9PJ
0844 573 1002
OTHER BUSINESSES
Alans Bikes

47-51 Wallgate, Wigan, Lancashire, WN1 1BE
01942 826598
Down Under Leisure Rugby Co.

164a Gidlow Lane, Wigan, Lancashire, WN6 7EA
01942 496599
DW Sports Shop

1st Floor, Grand Arcade, Wigan, Lancashire, WN1 1BH
0844 249 5319
Latics Club Shop

5 Ashton Gallery, The Galleries, Wigan, Lancashire, WN1 1AS
01942 245098
Sportsline

6 Gerard Street, Aston-in-Makerfield, Wigan, Lancashire, WN4 9AA
01942 722071
Winstanley's Cycles

725 Ormskirk Road, Wigan, Lancashire, WN5 8AT
01942 707646