Rochdale Sports Shops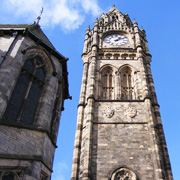 With two major shopping centres to choose from, Rochdale residents have a great selection of both multiple and independent retailers. Rochdale Exchange and Wheatsheaf are located at each end of the town, with a variety of sports shops specialising in all the major team games and activities.
Anglers can find all the gear they need in Rochdale Angling on Yorkshire Street, whilst Chris Paulson Cycles in the same street offers new and used cycles, as well as a repair service.
If aching backs or torn muscles are the problem, sportsmen and women can head for Bradley Associates on Edenfield Road who both have trained physiotherapists to make an assessment and suggest appropriate treatment. Sport4real Teamwear in nearby Littleborough specialises in selling team kits to schools and colleges, and can offer products from many leading sports brands.
POPULAR BUSINESSES
The Old Printworks, 65 Church Street, Littleborough, Rochdale, Lancashire, OL15 8AB
0800 612 5076
OTHER BUSINESSES
BKC Trophies & Engraving Service

183 Yorkshire Street, Rochdale, Lancashire, OL12 0DR
01706 631776
Bradley Associates Physiotherapy

92 Edenfield Road, Rochdale, Lancashire, OL11 5AE
01706 522922
Castleton Bowling Club

Ashton Street, Rochdale, Lancashire, OL11 3RT
01706 651791
Chris Paulson Cycles

246-252 Yorkshire Street, Rochdale, Lancashire, OL16 2DP
01706 633426
Rochdale Angling

161 Yorkshire Street, Rochdale, Lancashire, OL12 0DR
01706 527604
Rochdale Cycling Club

43 Molyneux Street, Rochdale, Lancashire, OL12 6QA
01706 644944
Romida Sports

18 Shaw Road, Rochdale, Lancashire, OL16 4LT
01706 882444