St Albans Sports Shops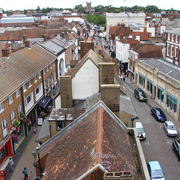 Situated only twenty miles from London, St Albans in Hertfordshire is a popular dormitory city for many of the capital's workers. The historic city centre is full of independent retailers and is supplemented by The Moultings Shopping Centre.
St Albans residents are lucky to have the independently run OutdoorKit store in the High Street. This sports shop sells a huge range of outdoor clothing and equipment from many different makers.
Cycling enthusiasts are well catered for by Addiktion Cycles in Victoria Street. They have a great selection of new bikes and can undertake almost any cycle repairs. The London Colney Fishing Tackle Shop in Haseldine Road is a popular store for all of the regionís anglers. Rods, reels, weights, line, nets and other pieces of fishing equipment are all on offer. The Hockey Centre in Beech Road and Just Rugby in the Metro Centre both specialise in their chosen sports with superb selections of clothing and equipment from top sports brands.
POPULAR BUSINESSES
25 High Street, St Albans, Hertfordshire, AL3 4EH
01582 879 879
OTHER BUSINESSES
Addiktion Cycles

97-101 Victoria Street, St Albans, Hertfordshire, AL1 3TJ
01727 858841
Extreme

70 London Road, St Albans, Hertfordshire, AL1 1NG
01727 854485
Good Sports

4a Leyton Road, Harpenden, St Albans, Hertfordshire, AL5 2TL
01582 767171
Just Rugby

Unit 4, Metro Centre, Ronsons Way, St Albans, Hertfordshire, AL4 9QT
0845 230 1072
London Colney Fishing Tackle Shop

11 Haseldine Road, St Albans, Hertfordshire, AL2 1RR
01727 826677
The Hockey Centre

200 Beech Road, St Albans, Hertfordshire, AL3 5AX
01727 865264