Herefordshire Sports Shops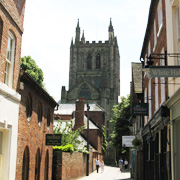 Narrow your results: browse for sport shops in Herefordshire towns:
Hereford.
Sports Shop UK is a free directory that any UK-based shop is entitled to join. This page lets you view all the Herefordshire sports shops that we currently hold information about.
Cick here to access more information about how to add your sports business to this page. Registering your Herefordshire sports shop will not take long.
OTHER BUSINESSES
Clubsport

Unit 4 All Saints Court, Bewell Street, Hereford, Herefordshire, HR4 0BA
01432 342626
Lamberts

50 Maylords Orchards, Hereford, Herefordshire, HR1 2DT
01432 270188
Sports Horse Services

1 King Street, Hereford, Herefordshire, HR4
07939 625 075‎
Sportsdirect

6 Trinity Square, Hereford, Herefordshire, HR1 2DR
0870 8387314