BBguns4less
(1 review)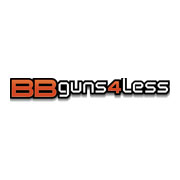 Address
1 Buckles Lane, South Ockendon, Essex, RM15 6RS
Telephone
01708 857286
Contact
Send an email to BBguns4less now >>
About
BBguns4less are based in South Ockenden in Essex, and are sellers of air soft BB guns and equipment. They offer free shipping throughout the UK, and sell in many different categories; these range from holsters to ammunition, pistols to rifles, sniper rifles to 'full metal' bb guns, and revolvers to fully automatic BB guns.
Some of their popular brands include famous names like Smith & Wesson, Bulldog, Colt and Double Eagle. BBguns4less match any other website price in the UK on like for like equipment; although itís unlikely you will need to look around because they are a comprehensive one stop shop for all BB gun requirements. They probably have the biggest range of air soft guns in England and they also offer a 30 days money back guarantee if customers arenít happy with anything they buy from them.
A section on this Essex BB gun shopís website explains the legal position regarding the purchase and use of these guns; all of the air soft BB guns are UK legal, and customers will not need licence to buy any of the air soft BB guns from them.
BBguns4less is an Essex sport shop that specialises in guns equipment.