Edinburgh Sports Shops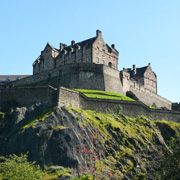 The capital of Scotland also happens to be one of the largest cities in the UK - and this fact alone ensures that there are plenty of Edinburgh sports shops offering all kinds of equipment regardless of your favourite sporting activity. Although the city is these days probably best known for its castle, festival and university, Edinburgh does have a proud sporting heritage and a number of professional teams that compete on the world stage.
National football, rugby and cricket teams all play in and around the city, and other more niche sports are also well represented such as baseball, athletics and speedway. The Edinburgh sports shops that sell all manner of items to locals and tourists are as diverse as they are plentiful, and this ensures that the city continues to be a great destination for shoppers looking for sports equipment.
POPULAR BUSINESSES
35 West Bowling Green Street, Edinburgh, EH6 5NX
0800 024 2421
87 Princess Street, Edinburgh, EH2 2ER
01312253579
128 Lothian Road, Edinburgh, EH3 9BG
0131 228 8614
196 Rose Street, Edinburgh, EH2 4AT
01312 240074
OTHER BUSINESSES
Boardwise

4 Lady Lawson Street, Edinburgh, EH3 9DS
0131 229 5887
Borlands

7 Croall Place, Leith Walk, Edinburgh, EH7 4LT
0131 556 4038
Bruntsfield Sports

103-105 Bruntsfield Place, Edinburgh, EH10 4EQ
0131 229 5544
First Fitness Factory

89b Glasgow Road, Edinburgh, EH12 8GZ
0131 334 6802
Football Nation

128 Lothian Road, Edinburgh, EH3 9BG
0131 202 2450
Kidd Sports

14 Hutchison Cottages, Edinburgh, EH14 1PY
07958 547637
Leith Athletics

208-210 Leith Walk, Edinburgh, EH6 5EQ
0131 554 1375
Penalty Box

16 Roseburn Terrace, Edinburgh, EH12 6AW
0131 346 7171
Powerhouse Fitness

14 Antigua Street, Edinburgh, EH1 3NH
0131 558 3727
Run & Become

66 Dairy Road, Edinburgh, EH11 2AY
0131 202 8324
Snowlines

14-15 Bruntsfield Place, Edinburgh, EH10 4HN
0131 229 2402