Stockton-on-Tees Sports Shops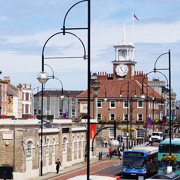 As a busy County Durham town, Stockton-on-Tees has some terrific shopping areas, notably the Castlegate Shopping Centre. Home to many multiple retailers, the areaís independent sports shops are located all over the town. With fishing as the UKís most popular sport itís no surprise to find plenty of angling shops in the region. These include Cleveland Angling Centre in Westbury Street, and Tackle the Problem in Dukesway.
Cyclists are spoilt for choice as well. Skinnergate Cycles in Brunswick Street and Blackhawk Bikes in Bowesfield Lane not only sell new and used cycles, but also offer most types of cycle repairs. Whilst NMV Sports is online only, their choice of goalkeeping equipment and gloves is second to none. Runners may like to check out Distance in Ramsgate for all the best running shoes and clothing.
POPULAR BUSINESSES
38B Dukesway, Teesside Industrial Estate, Stockton-on-Tees, County Durham, TS17 9LT
01642 605000
Unit 3, Bowesfield Crescent, Bowesfield Industrial Estate, Stockton-on-Tees, County Durham, TS18 3HJ
01642 633200
OTHER BUSINESSES
Blackhawk Bikes

3 Hunters Buildings, Bowesfield Lane, Stockton-on-Tees, County Durham, TS18 3QZ
01642 913134
Cleveland Angling Centre

22a Westbury Street, Stockton-on-Tees, County Durham, TS17 6PG
01642 677000
Distance

17 Ramsgate, Stockton-on-Tees, County Durham, TS18 1BS
01642 918798
Higman Sports

David Lloyd Club Shop, Navigation Way, Stockton-on-Tees, County Durham, TS17 6QA
01642 673003
Skinnergate Cycles

62 Brunswick Street, Stockton-on-Tees, County Durham, TS18 1DR
01642 606520
Soccer Bargains

26 Hampton Road, Stockton-on-Tees, County Durham, TS18 4DU
01642 883443
Tackle the Problem

64f Dukesway, Stockton-on-Tees, County Durham, TS17 9LT
01642 941371