Poole Sports Shops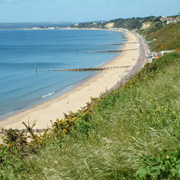 As a large coastal town on Dorsetís English Channel coast, Poole is well served by an excellent selection of sports shops. If youíre into running, cycling, boxing, rugby, sailing or martial arts, thereís a Poole sports shop that can help you find the equipment, clothing or footwear you need. Racket sports specialists MDG Sports have a traditional shop in Poole which is supported by a comprehensive website.
If you love skateboarding, then Vortex Skate N Wake on Grand Parade should be able to help you. Wessex Angling Centre on Wimborne Road sells just about everything associated with fishing, and Ride in Commercial Road can not only sell you a new bike, but repair it as well. Any Poole sports shop can have a free listing in this specialist sports directory.
POPULAR BUSINESSES
Poole Quay, Poole, Dorset, BH15 1HF
01202 900012
Wessex Dental, 10 Holes Bay Park, Sterte Avenue West, Poole, Dorset, BH15 2AA
01202674486
Unit 10 Holes Bay Park, Sterte Avenue West, Poole, Dorset, BH15 2AA
07790 939630
OTHER BUSINESSES
Cyclelife

291-301 Ashley Road, Poole, Dorset, BH14 9DZ
01202 744244
DW Sports Shop

Poole Retail Park, The Redlands, Poole, Dorset, BH12 1DN
0844 372 5361
Football Teamkit Ltd.

44 Balena Close, Poole, Dorset, BH17 7DY
01202 690004
OSC

Unit A, Falkland Square Shopping Centre, Poole, Dorset, BH15 1ER
0870 838 7259
Power Play Pro Shop

Bowlplex, Poole Road, Poole, Dorset, BH12 1DA
01202 762447
Ride

111 Commercial Road, Lower Parkstone, Poole, Dorset, BH14 0JD
01202 741744
Running Free

22a Bournemouth Road, Lower Parkstone, Poole, Dorset, BH14 0ES
01202 741900
Vortex Skate N Wake Shop

1 Grand Parade, High Street, Poole, Dorest, BH15 1AD
01202 675648
Wessex Angling Centre

319-321 Wimborne Road, Poole, Dorset, BH15 3DH
01202 668244