County Fermanagh Sports Shops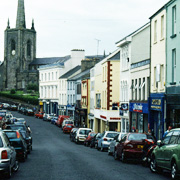 With Enniskillen being the largest town in County Fermanagh, itís no surprise that the area has the largest number of sports shops in the county. If your favourite hobby or sport is cycling, fishing, golf, archery or climbing, thereís a County Fermanagh sports shop or sports centre that can help with all of your requirements. Fletcher Golf in Portland Business Park are the experts for golf clubs, bags, accessories and clothing, whilst Lakeland Bikes in the same area can sell you a complete cycle or any number of accessories like lights, saddles, pedals, wheels, tyres and tubes.
Lakeland Leisure Sports & Trophy Shop on Main Street in Enniskillen are the specialists at engraving cups, medals and trophies for almost any sporting event. Proleisurewear in Roselea is an online company that sell their selection of sports and leisure clothing to customers all over the UK. If you have a County Fermanagh sports shop that you would like listed here, please let us know.
POPULAR BUSINESSES
Roslea Enterprise Centre, Liskilly Road, Roslea, County Fermanagh, BT92 7FH
08448 792134
OTHER BUSINESSES
Corralea Activity Centre

Corralea, Enniskillen, County Fermanagh, BT93 5DZ
028 6638 6123
Erne Tackle & Cycles

121 Main Street, Enniskillen, County Fermanagh, BT92 0JD
028 6772 1969
Fletcher Golf

Unit 4, Portland Business Park, Tempo Road, Enniskillen, County Fermanagh, BT74 6HR
028 6632 0009
Lakeland Bikes

1 Portland Business Park, Tempo Road, Enniskillen, County Fermanagh, BT74 6HR
028 6632 2511
Lakeland Leisure Sports & Trophy Shop

46-48 Main Street, Enniskillen, County Fermanagh, BT94 1GL
028 6862 8427
Lydon Sports

Unit 2, East Bridge Street, Enniskillen, County Fermanagh, BT74 7BW
028 6632 9786