Hartlepool Sports Shops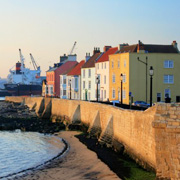 Situated on County Durham's east coast, Hartlepool was built on the strength of its location as a major seaport. As a medium sized UK town, there is a good selection of multiple and independent retailers serving many different types of business.
A choice of Hartlepool sports shops can supply clothing and equipment for most major sports like football, rugby, tennis and hockey as well as equestrian sports and athletics. Several excellent angling also shops support the needs of fishermen in the region for both sea and freshwater angling.
POPULAR BUSINESSES
62 Avenue Road, Hartlepool, County Durham, TS24 8AT
01429 872873
OTHER BUSINESSES
Dixons Sports

176 Middleton Grange Shopping Centre, Hartlepool, County Durham, TS24 7RR
01429 863844
Dynamo Angling

40 Miller Crescent, Hartlepool, County Durham, TS24 9QX
07880 846210
Friarage Tackle & Bait Shop

39 Northgate, Hartlepool, County Durham, TS24 0JX
01429 273145
Premier Lake Balls

Unit 10, Newburn Bridge Industrial Estate, Mainsforth Terrace, Hartlepool, County Durham, TS25 1TZ
01429 427353
Stofeld Crest Stables

Elwick, Hartlepool, County Durham, TS27 3HH