Peterborough Sports Shops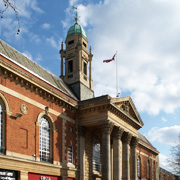 Whilst Peterborough does not have the massive household name sports teams such as... Manchester for example, there is a wide-ranging selection of sports played here at amateur and professional level; including cricket, athletics, football and rowing. Ice hockey and speedway are also now firmly established in Peterborough – and all this sporting activity has meant that the city has a generous smattering of specialist Peterborough sports shop to keep all ages and competencies fully up-to-date with the latest gear.
Whilst the Queensgate shopping centre has little to offer the serious sports fan, specialist Peterborough sports shops such as the tenpin bowling retailer, Pete's Pro Shop - or Sports Soccer in Long Causeway - cater for those people who love their particular sport and want to get expert advice on the very latest products.
POPULAR BUSINESSES
Peterborough Garden Centre, Eye Road, Peterborough, Cambridgeshire, PE1 4SA
Unit 1, 130 Station Road, Whittlesey, Peterborough, Cambridgeshire, PE7 2EY
01733 205551
General & Medical House, Napier Place, Peterborough, PE2 6XN
0800 980 4601
OTHER BUSINESSES
Ballz

Unit 4 Eastwood Road, Oundle, Peterborough, Cambridgeshire, PE8 4DF
01832 274747
Cynic Skateboards

14 Jasmine Way, Yaxley, Peterborough, Cambridgeshire,
01733 755396
Hereward Sports

2 Queensgate Centre, Peterborough, Cambridgeshire, PE1 1NH
01733 898400
Kitesports

Unit 6 Bakewell Road, Orton Southgate, Peterborough, Cambridgeshire, PE2 6XU
01733 234975
Peterborough Ice Hockey Shop

Ice Rink, Mallard Road, Peterborough, Cambridgeshire, PE3 8YN
01733 266600
Petes Pro Shop

2 Wulfric Square, Bretton, Peterborough, Cambridgeshire, PE3 8RF
01733 260440
Shotbowl

10 Peacock Square, Blenheim Way, Market Deeping, Peterborough, Cambridgeshire, PE6 8LW
01778 348788
Sports Soccer

25 Loing Causeway, Peterborough, Cambridgeshire, PE1 1YJ
0870 3339454