Cambridge Sports Shops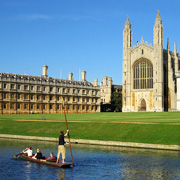 Mention Cambridge in the same sentence as the word 'sport' and people will almost certainly think of the annual Oxford and Cambridge Boat Race that first took place in 1829. Whilst the River Cam does offer an excellent destination for rowing, the city is home of many more sporting activities and this has ensured that numerous Cambridge sports shops still thrive. Football, rugby, cricket and tennis are all popular sports in and around the city - and Cambridge is also able to boast 2 Real Tennis courts at the university.
Specialist Cambridge sports shops are dotted all over the city. These include Hobbs Sports in Sydney Street and The Sweatshop in Norman Way. Top Spin Tennis is based at the Cambridge Lawn Tennis Club and offers its customers a good choice of equipment and clothing. If football is your favourite sport, The Football Store at Cambridge United Football Club is worth a visit. As well as selling replica team kits they also have plenty of football gifts and accessories on sale. Check out the details of all these Cambridge sports shops below.
POPULAR BUSINESSES
Hills Road Sports and Tennis Centre, Purbeck Road, Cambridge, CB2 8PF
01223 241956
OTHER BUSINESSES
Advance Performance

Gusto Mill, Huntingdon Road, Cambridge, Cambridgeshire, CB3 0DL
01223 279191
Hobbs Sports

36 Sydney Street, Cambridge, Cambridgeshire, CB2 3HX
01223 362428
The Football Store

South Stand, Cambridge United Football Club, New Market Road, Cambridge, Cambridgeshire, CB5 8LN
01223 413718
The Sweatshop

Next Generation, 21-25 Coldhams Lane Business Park, Norman Way, Cambridge, Cambridgeshire, CB1 3LH
01223 415345
Two Seasons

Unit 5, Christ's Lane, Cambridge, Cambridgeshire,
01223 362832