High Wycombe Sports Shops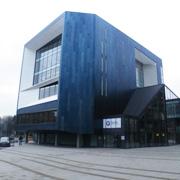 High Wycombe in Buckinghamshire isn't exactly bursting at the seams with great sporting venues, although there are plenty of sports shops in the area to cater for many of the inhabitants' love of sport. The local football team, Wycombe Wanderers continues to get strong support from the local community and Nicola Sanders, the athletics champion is a native of High Wycombe.
Sport & Ski in Octagon Parade have a terrific choice of skis, snowboards, ski boots and protective clothing for these popular winter sports. Strings 'N' Things based at the Wycombe Badminton Centre not only offers a fast re-stringing service - a good choice of new rackets and other equipment is also on sale. If you prefer water based activities. Fun Swim Shop in Beech Road has a comprehensive website that offers many different swimming products for delivery anywhere in the UK. If you know of any High Wycombe sports shops that are not represented on this page we would love to hear from you.
POPULAR BUSINESSES
Unit 4, Fairview Estate, Beech Road, High Wycombe, HP11 1XU
0844 3511477
OTHER BUSINESSES
JC Sports

41 Eden Walk Gallery, High Wycombe, Buckinghamshire, HP11 2BJ
01494 437712
Sport & Ski

Unit 33, Octagon Parade, High Wycombe, Buckinghamshire, HP11 2HU
0870 3339424
Strings 'N' Things

Wycombe Badminton Centre, Crest Road, High Wycombe, Buckinghamshire, HP11 1UA
01494 528441
Woodward & Stalder

1A White Hart Street, High Wycombe, Buckinghamshire, HP11 2HL
01494 534741