Aberdeen Sports Shops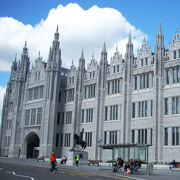 With vibrant football, swimming, rowing, golf and rugby scenes, there's plenty of sporting activities to get involved in around Aberdeen's city centre. Some smaller, niche sports have good representation too, with an indoor skate park and a floorball club that has seen some good successes.
George Street and Union Street provide ample shopping opportunities, and specialist Aberdeen sports shops are dotted around the central district. The usual large stores like JD Sports are all present, although for the really specialist kit, we'd suggest travelling a little bit further afield and checking out stores like Soccerworld on Crown Street or The Running Shop on Mount Street. There are several other independent Aberdeen sports shops too – simply scroll down the page to find more.
POPULAR BUSINESSES
9 The Atrium, Union Square, Aberdeen, Aberdeenshire, AB11 5PS
01224 593639
314 George Street, Aberdeen, Aberdeenshire, AB25 1HL
01224 647347
42-44 Union Street, Aberdeen, Aberdeenshire, AB10 1BD
01224 646475
17 South Mount Street, Aberdeen, Aberdeenshire, AB25 2TN
01224 636299
29-31 Rose Street, Aberdeen, Aberdeenshire, AB10 1UB
01224 620100
OTHER BUSINESSES
Aberdeen Field Sports

35 Waterloo Quay, Aberdeen, AB11 5BS‎
01224 581 313
Aberdeen Football Club Shop

19 Bridge Street, Aberdeen, AB11 6JL‎
01224 212 797
Craigdon Mountain Sports

5 Saint Andrews Court, Aberdeen, AB25 1BQ‎
01224 624 333
Elementz

42-44 Union Street, Aberdeen, AB10 1BD‎
01224 646 475
Rugby Plus

314 George Street, Aberdeen, AB25 1HL‎
01224 647 347
Run 4 It

21 Holburn Street, Aberdeen, AB10 6BS‎
01224 594 400
Sillett Specialist Sports

176 King Street, Aberdeen, AB24 5BH‎
01224 641 944
Soccer World

121 Crown Street, Aberdeen, AB11 6HN‎
01224 585 157
Somers Fishing Tackle

13-15 Bon Accord Terrace, Aberdeen, AB11 6DP‎
01224 210 008
The Running Shop

17 South Mount Street, Aberdeen, AB25 2TN‎
01224 636 299