Improve your listing on this directory
If you've arrived here, you've probably seen your shop mentioned on one of our location pages and are wondering how to increase your exposure on this directory. The good news is, upgrading your listing is totally free of charge. All you need to to do is give us a little bit of your time. Firstly though, here's an introduction to the different listing types available.
If your current listing consists of just a name, address and telephone (as illustrated below) then you have a Basic Listing.

You have two upgrade options: "Medium" or "Enhanced".
Both these types of listing are totally free - but they provide retailers with different levels of prominence within our directory. Here is a summary of the benefits of each listing: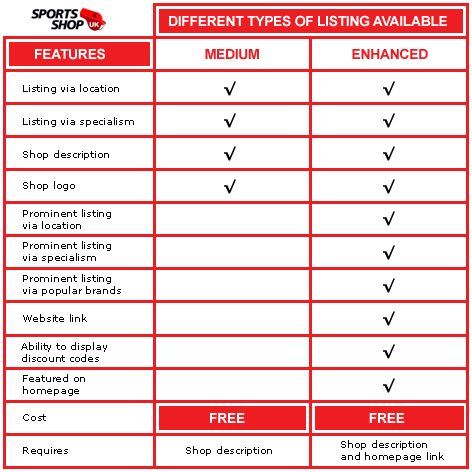 If you don't have a website or aren't interested in increasing the number of website visitors that you get, then a Medium listing will be perfectly adequate. Alternatively, if you want to dramatically increase the number of visitors that your website receives, you really need to tick the box at the bottom of our sign up page that says "tell me about enhanced listings".
Please note: We recommend you leave yourself at least 20 minutes to complete our sign up form.