Timex Shops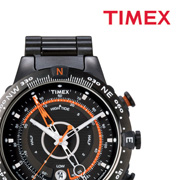 As masters of reinvention, Timex watches are unrecognisable from the low priced versions produced in the 1970s. With an emphasis on style and quality, they are now sold as fashion items as well as serious time keeping pieces for sportsmen and women all over the world. Many of the Timex watches are sold for heart rate monitoring by athletes, and with such features as digital transmission, recovery rate times and water resistance they are as good as any others on the market.
Sports Timex watches are only a part of the overall company production, and with classic designs as well as luxury versions for both men and women, Timex watches are made for any occasion. Kids Timex watches are another big part of the ranges, and with bright colours, fancy faces and at budget prices, they are popular with boys and girls everywhere.
Watches for the big outdoors are an essential part of equipment for people on the move, and what surfer or fisherman doesn't need a Timex watch that also tells them the tide times and air temperature?! Other versions also include features like an altimeter, barometer and a compass which are great for mountaineers, hikers or backpackers.
RECOMMENDED CATEGORIES

Keeping fit has never been more popular - and there are thousands of keep fit shops situated all over the UK.
Visit the Keep Fit category >>

These specialist running shops have been set up to supply clothing, accessories and expert advice for runners of all abilities.
Visit the Running category >>