Prince Shops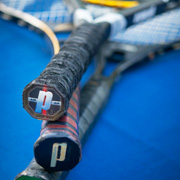 Prince is well known as a major manufacturer of tennis sporting equipment, clothing and shoes, with a strong corporate identity and brand. Tennis players all over the world recognise them as one of the best in their field and the Prince shops are well placed to take advantage of their investment in research and new technology which gives them a constant introduction of new rackets, clothing and footwear.
Prince shops can be found in most major UK towns and cities, and whilst their products will be offered alongside some of their competitors, Prince are well known as premier tennis specialists. Their choice of tennis clothing is second to none, and with a huge range of styles and colours for both men and women, customers in Prince shops need not look elsewhere. With a great choice of tennis shoes, socks, caps and wristbands as well as tennis balls and rackets, Prince really are the complete tennis supplier.
Sales through Prince shops are helped by the companies sponsorship of many high profile tennis players on the international circuit, and this endorsement which always features the Prince logo even extends to their own tennis balls.
RECOMMENDED SHOPS SELLING PRINCE PRODUCTS

Top Spin Tennis
Specialist racket sports shops selling shoes, clothes and accessories, as well as offering a professional racket stringing service.
Read more about Top Spin Tennis >>