ASICS Shops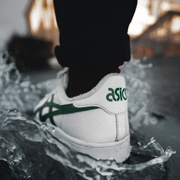 Japan based ASICS company makes professional sports equipment and footwear for many different sporting activities. The ASICS shops will keep gear for many different sports including running, football, cricket, golf and volleyball as well as the popular racket sports of tennis, badminton and squash. As with all major sports suppliers, constant research and development means that their ASICS shops will always offer the very latest innovative designs.
Whilst shoes are a major part of ASICS product ranges, the ASICS shops will also sell the huge selections of running clothing which has been designed for maximum comfort and style. This includes shorts, shirts, trousers and tops in a variety of fabrics and colours. The ASICs distinctive logo is always built into their designs, and is vitally important for improving the company sales through the ASICS shops.
The ASICS website states that their name 'stands for "Anima Sana in Corpore Sano", a sound mind in a sound body - a Latin phrase expressing the ancient ideal of a sound mind in a sound body.' This philosophy is extended into everything they do to promote sport as a whole, and to assist the ASICS shops to sell more of their products.
RECOMMENDED SHOPS SELLING ASICS PRODUCTS

MDG Sports
Racket sports specialist with a traditional sports shop and website selling equipment for tennis, badminton and squash.
Read more about MDG Sports >>

Top Spin Tennis
Specialist racket sports shops selling shoes, clothes and accessories, as well as offering a professional racket stringing service.
Read more about Top Spin Tennis >>